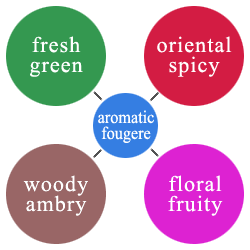 Fragrance
Layering
Today applying fragrances has become somewhat of an art form. With so many scents to choose from, finding the right products to combine your signature scent is another way to complete your personal style. You may have heard of layering your fragrance. This is a method of applying a fragrance along with matching scented products such as a shower gel, lotion, cream, oil, etc. Layering your fragrance is a way to help keep the scent long-lasting your skin. However you combine these products ultimately depends on your preference and body chemistry. For example, if you have dry skin, a lotion or body cream will work best to keep your skin hydrated as perfume tends to last longer on moisturized skin. If you have oily skin, applying a bit of talc will keep the fragrance stay to your skin. Below are some tips on how to use these products. Experiment and Enjoy!

Shower Gel/Soaps - Cleansing your skin with a scented gel or soap leaves your skin lightly fragranced.


Body Lotion/Moisturizer - A great base for your fragrance! A perfumed moisturizer will keep your skin hydrated, soft and scented with your favorite fragrance.


Body Cream - Perfumed body creams will have a richer, more luxurious consistency than a lotion/moisturizer. If you have dry or very dry skin,


Perfumed Talc/Powder - A scented talc or powder is great when applied to moisturized or oily skin. Helps absorb perspiration, wetness and fights odor.


For Men: After Shave Balm - Lightly scented, a balm helps soothe razor burn and keeps your skin feeling cool and hydrated. Recommended for sensitive, normal and dry skins.


For Men: After Shave Lotion - Can be used alone or before applying your fragrance. Acting like a toner, an after shave lotion helps prepare your skin for an ultimate fragrance experience.


Body Oil - A concentrated scented oil that locks in moisture. Massage onto skin for a warming and long-lasting experience.


Perfumed Deodorant - Helps fight odor and wetness.